Welcome to my Amiga Journey, this story is set over 10 chapters and describes my return to the Amiga scene.  I hope you enjoy 🙂

Fitzsteve's Amiga Journey – Part 1


I'd always longed for an Amiga growing up but alas before I could afford one along came those pesky Consoles like the Snes and I went that route.
But I still longed to play my favourite Speccy games with 'Amiga graphics' and like most kids that didn't get what they wanted as a grown up I started my Amiga collection!
So here's where it all started! My trusty A1200 that I picked up at a Car boot sale in around 2002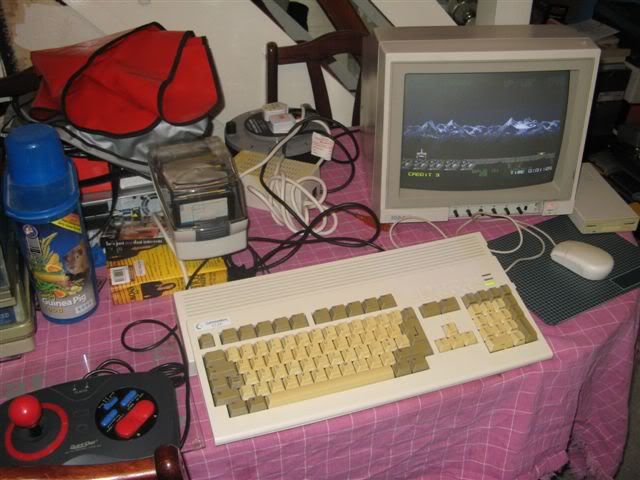 And for those games that wouldn't run on the A1200 I had my trusty A500


These were my pride and joy, setup in my office space for years until we moved in about 2005 and they ended up in storage in the loft.
It was a sad day in 2009 that I decided to sell this unused collection so I took them of their boxes to take pics and list them on ebay. In searching for their values I found some awesome Amiga sites (EAB and Amibay!)
Whilst Mrs Fitz talked me into letting go of the A500 and 3 cases of games I soon realised during testing that I could not sell my beloved A1200!


So here started a mad journey that would see me build up a pretty decent Amiga collection!
The first hurdle was to find out why my A1200 which I was sure has 8mb Fast Ram was only showing 2mb and Mr Guru making frequent visits.
Well it was soon clear upon inspecting my Elbox 1200/8 what the problem was, whilst in storage the clock battery had leaked and destroyed the jumpers for selecting memory and probably tracks as well.
I tried to clean it up and restore the card but really had no idea what I was doing and offloaded it as spares/repairs on ebay!
And after a month or two of searching found this awesome little replacement:
Finally I could enjoy the awesome Classic Workbench I'd spent so much time setting up and all those KG WHDload packs! (Thanks KG & Bloodwych)


It wasn't long before I was seriously bitten by the upgrade bug, and all the awesome activity still very much alive in the community.
So I setup a wanted thread for my very first 030 Accelerator and very much interested in trying out SCSI I asked for a Card with that facility.
A nice chap called Andrew offered to sell me his Typhoon 030 after seeing pics of the card I had to have it!


I was really pleased with the speed increase and all the new apps and emulators available to me, plus I got to setup a CDROM on the SCSI, all this with the help of my new found friends at EAB and Amibay.
So here it was, my dream A1200 setup:


Thank you for reading, I'll post chapter 2 soon 🙂