Fitzsteve's Amiga Journey – Part 8
I left you with a little snap of some goodies that arrived for my A4000 a Fastlane Z3 and a Tocatta 16Bit Sound Card.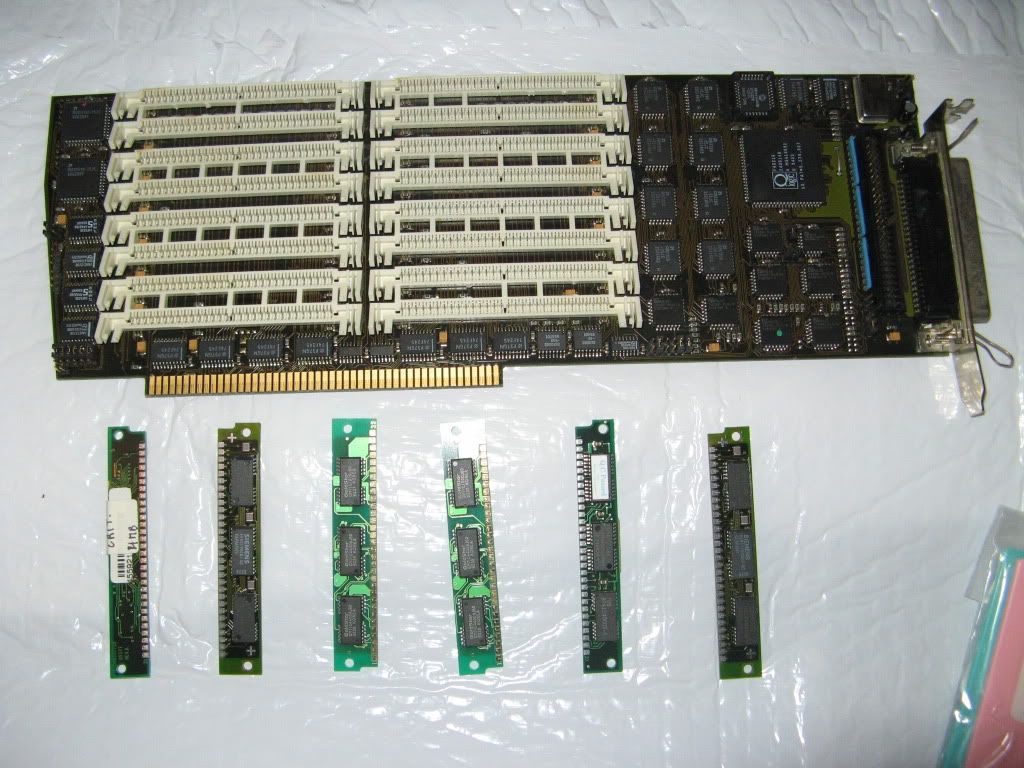 But this was not the only new toy that had arrived, Mrs Fitz had also bought me a PicassoIV for my Birthday: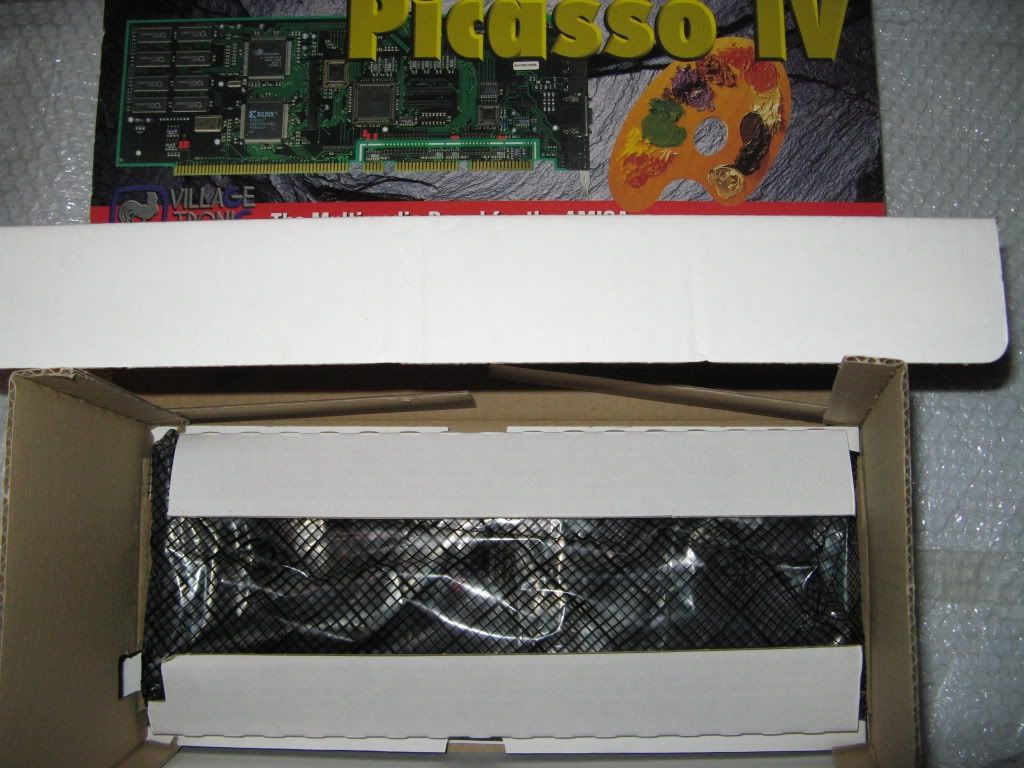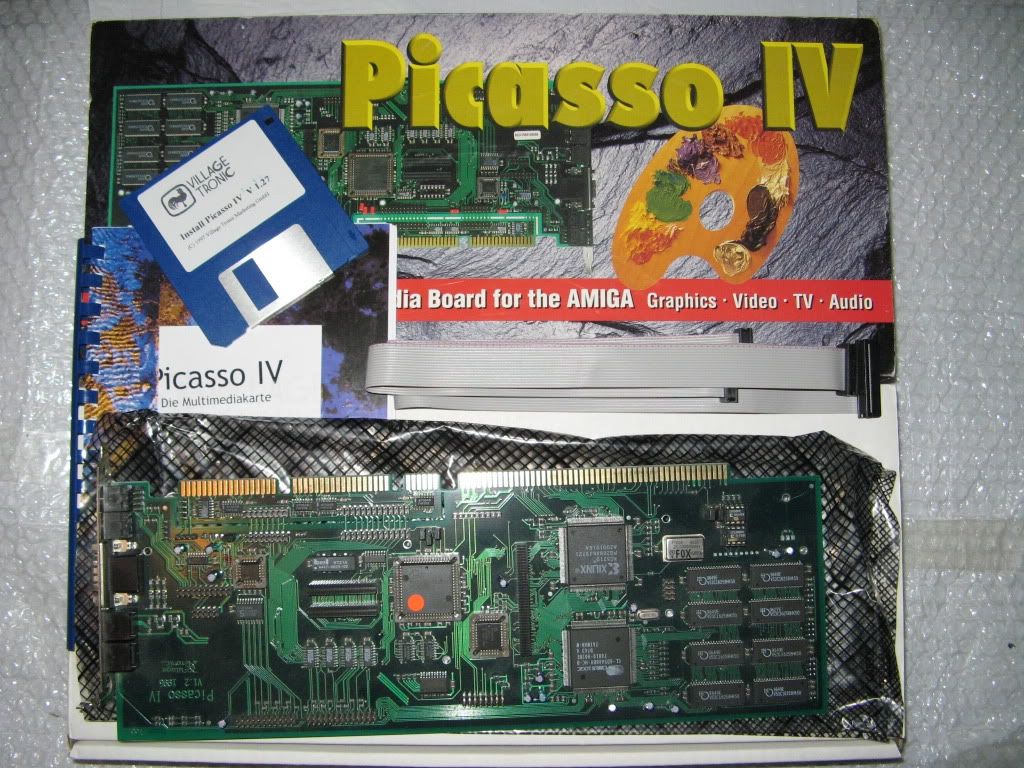 How awesome is that! Just like new =D
But sadly I could not fit them yet. Remember the battery leakage I supposedly cleaned up? Well being the amateur I was I had not done a very good job. This became apparent on Curry night at Chez Zetr0's. I took my A4000 to show off and when we opened it up the acid had done quite a bit of damage to the tracks around the Simm sockets in the few months since removing the battery.
Being the kind soul that Zetr0 is he held onto the motherboard and performed his magic witchcraft and sacrificed two lambs so that my A4000 could live again!
In just a couple of weeks the Motherboard was back with me fully repaired. Thanks sooooooo much mate!!!
Whilst waiting for Postman Pat to bring the A4000 Motherboard something else arrived…
OMG! My first ever Blizzard PPC
I was almost scared to touch it! It looked so delicate and complex. I carefully removed it from the packaging for the token photographs and then carefully installed it on my A1200T: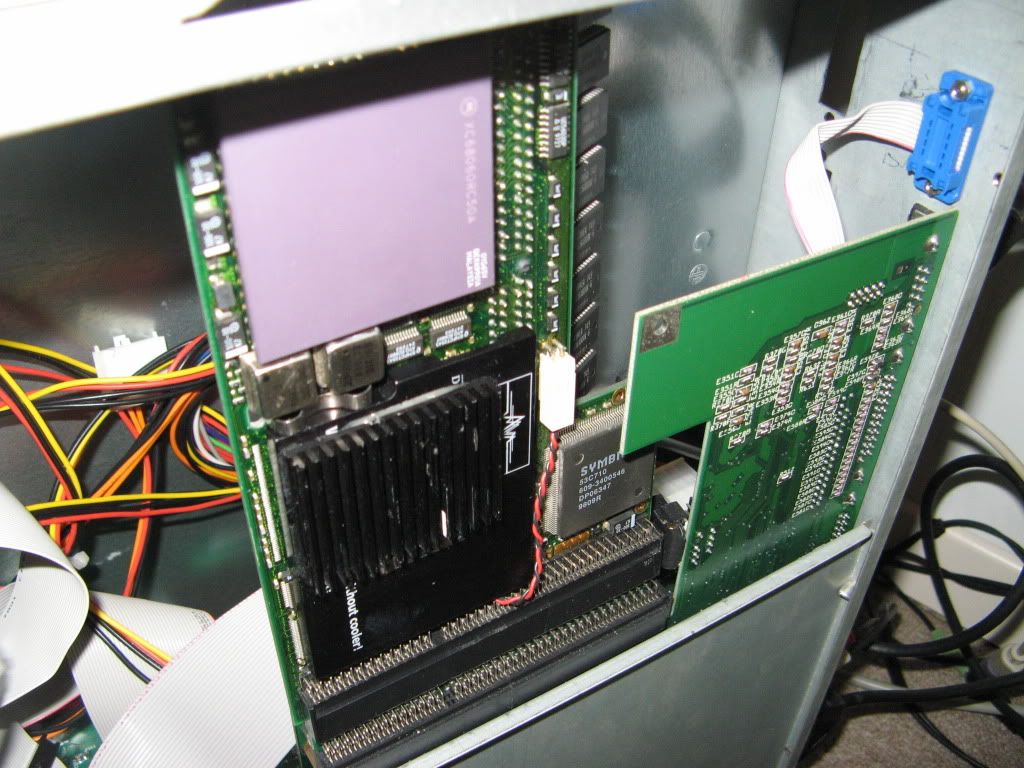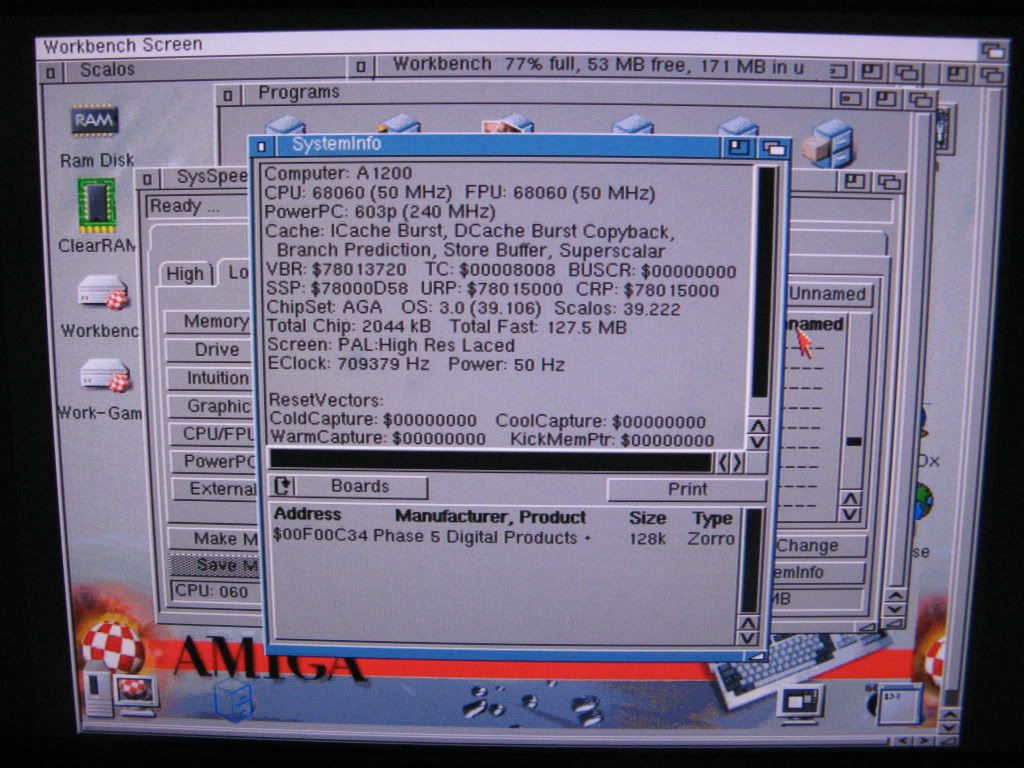 More to come on this later, as before I could finish the job the A4000 Motherboard arrived!
I was like a kid in a sweet shop, what to do next?
I figured I should try and get the A4000 up and running…Now to try and squeeze all those new Zorro cards into my A4000D!
The PicassoIV was next to impossible to fit, after almost an hour I gave up, fingers close to bleeding – I just could not get the Scan Doubler unit and Zorro connector in place at the same time. I actually had to get on MSN with Cosmicfrog and ask if I was doing something wrong!
It turns out I was just a wuss and had to try a bit harder, so after some more blood, sweat and tears I finally got the PicassoIV fitted!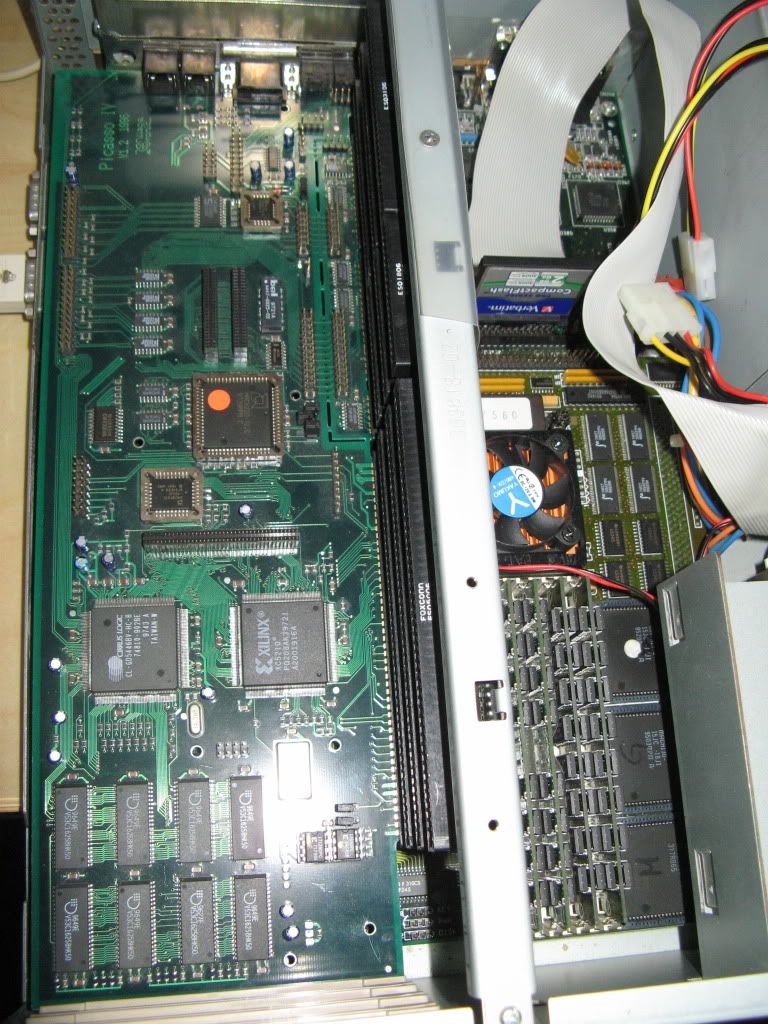 And after fiddling with some jumpers…

Yay! Up and running however limited to Zorro II mode, still assume this is a Buster -9 issue since the PIV works fine in another A4000
Although I was able to install the Tocatta Sound Card I had problems getting the Fastlane Z3 to work with this A4000. But I was happy for now with the A4000's progress!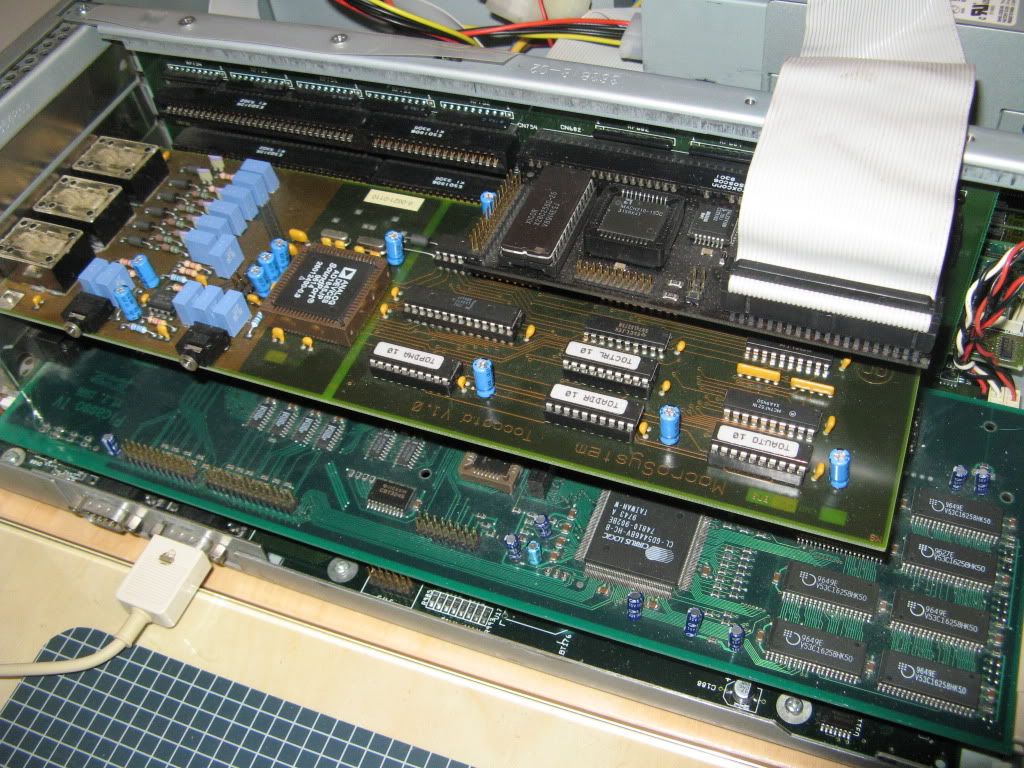 Here is a short Video of me playing with the recording function on the Tocatta:
Back to the A1200T!
So with things halted on the A4000 due to Buster issues I moved back over to the A1200T and BPPC. I'd also acquired a SCSI-IDE bridge and wanted to run my OS off the PPC's fast SCSI.
The plan was to mount it at the back of the case with the CF-IDE adapter, but for testing this little setup did fine.
The CF Card was prepared with WinUAE and to my astonishment worked first time!
A nice boost in speed to from that 1.7mb/sec I'd grown to know and love!
Temporary accommodation was sorted for the SCSI setup and I updated my Workbench installation: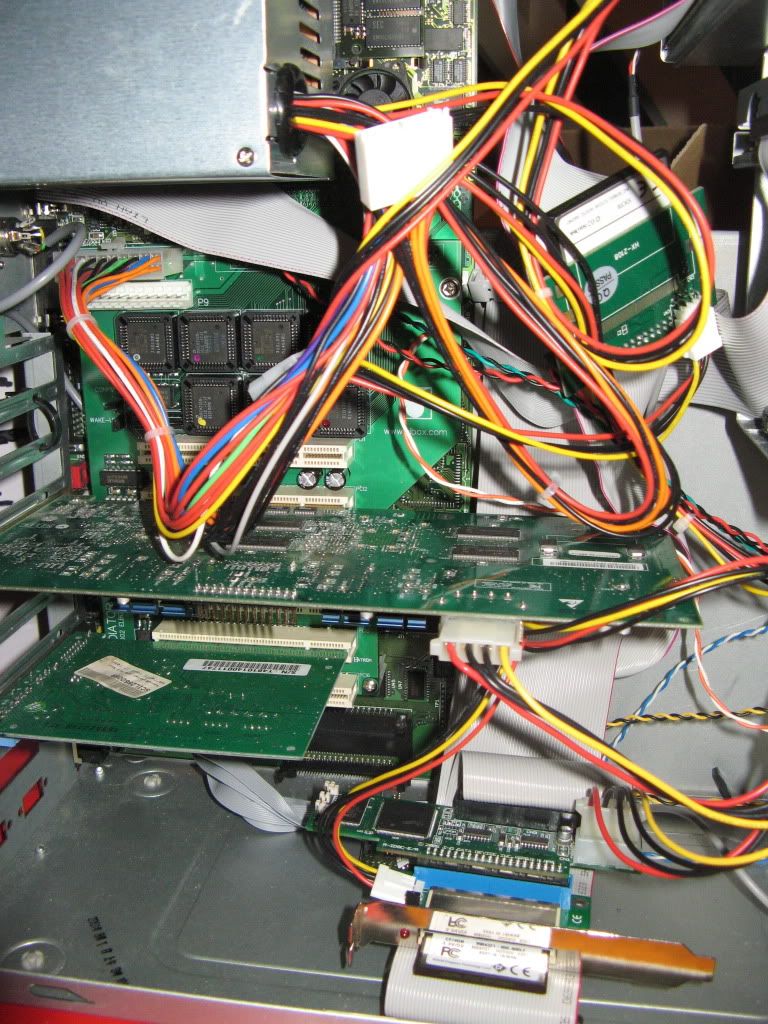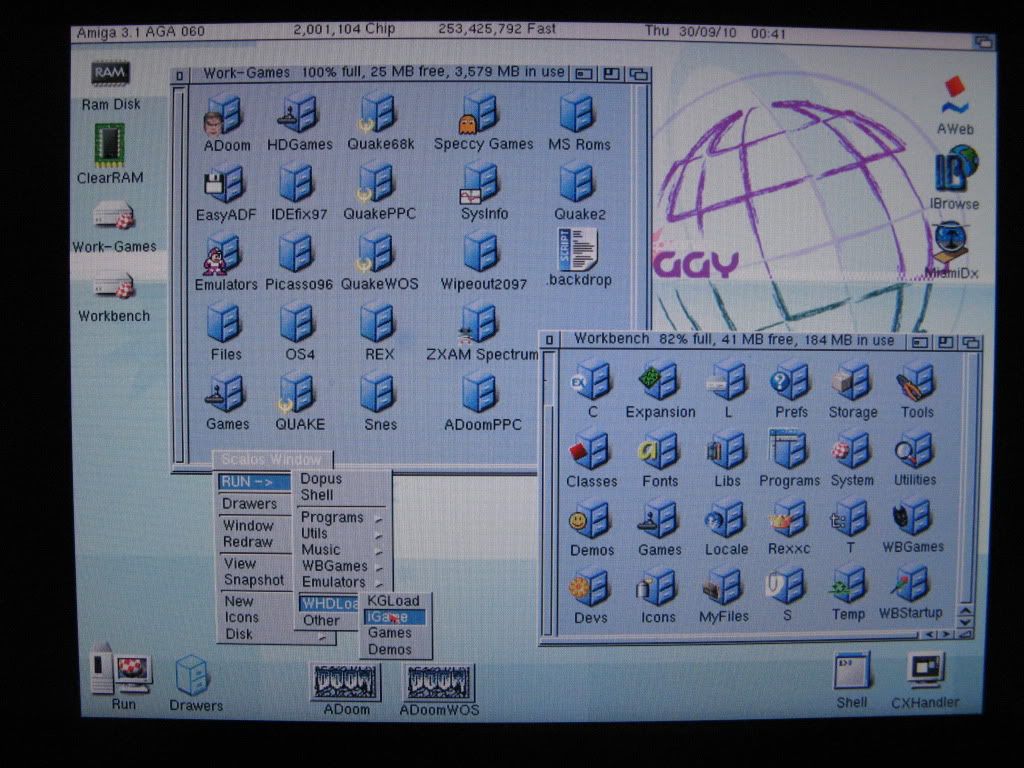 And even managed to get OS4 working! Albeit off the native IDE…


Eventually I replaced the CF-IDE setup on the SCSI with a nice quick ATA HDD:


And setup a dual boot setup off of the native IDE, not ideal but a workaround to issues I was having with CF compatibility and the FastATA which I'd removed in favour of the SCSI provided by my new BPPC.


As you can see I'd mounted a removable CF solution at the back of the case since at this time I was under the false impression that one day I'd finally close the case =D
And my dual booting OS was Amigasys4AGA:



From here it was a mad rush to get this system up and running properly and fully so that I could exhibit it at Retr0 Replay, I really can't count the sleepless nights trying to get Warp3D and PPC games up and running but I managed to get it all up and running just in time!
Below is a link to the photo's from the event: