Fitzsteve's Amiga Journey – Part 10
Well my friends, my epic journey is drawing to a close, you've seen how in about 18 months I've gone from one A1200 and an A500 to a very generous collection of some of the finest Amiga hardware available.
The final step for me was to own one of Stachu100's upgraded 330Mhz BPPC's, I toyed with the idea of upgrading my 240mhz PPC but the risk against the small gain did not add up. I decided to buy one of the cards that had already been upgraded.
Here it was, the most awesome piece of hardware to enter my collection:
Not only is the PPC upgraded, it also has the latest mask 060 chip which runs cool even at 72mhz!
The FastATA has been returned to this A1200 Tower so now I run a few different setups. Off the Blizzard SCSI I run OS3.9 with AfA_OS Installed, all Warp3D/WarpOS games are working fine and I also get online via a RealTek PCI NIC. Sound is still provided by a SoundBlaster 128 although I hope to get my TerraTec running at some point soon.
Off the FastATA I switch between CWB P96 and AmigasysAGA, again these are fully setup and ready to rock 'n' roll with a wealth of games and apps including setup for internet access.
Check out WipEout2097 running on this badboy!
One Last Project
So with my new PPC taking pride of place in my A1200 Tower my final project was born.
It was time to put my old PPC in a Desktop A1200, inspired by the awesome projects of mfilos, phipscube and r0jaws I set about creating my own.
First item I acquired was a Blizzard Vision RTG Card:
I also changed the fan on my old 240mhz BPPC and added a fan to the BVision:
The fan is powered by the floppy header on the A1200 and its hot glued in place so that it can be removed if need be, I used some fresh compound and I'm pleased to say that the Permedia Chip is nice and cool with this solution.
Here it is all installed in the A1200 Desktop: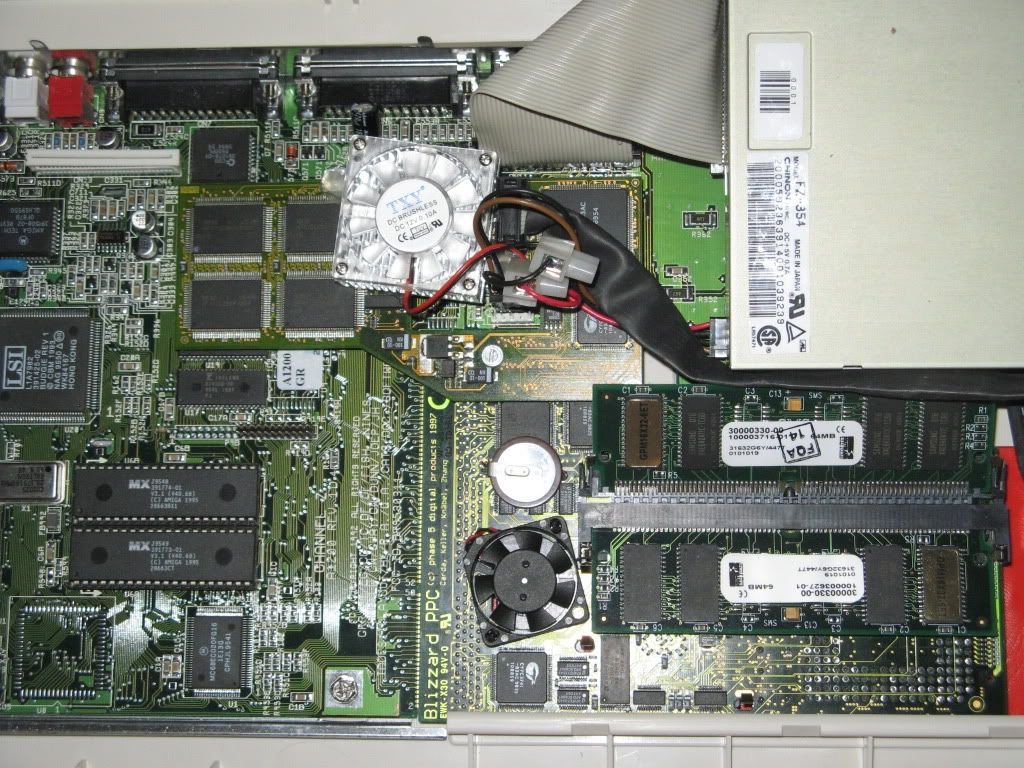 I mounted the VGA adapter on an old PCI backplane which was cut to size by our resident guru Zetr0:
And here she is, all up and running with the help of mfilos' OS3.9 install:
So that's it, the end of my epic journey.
I hope you enjoyed reading these as much as I have enjoyed sharing my work with you all. I've made some great friends, friendships that I will treasure and have learned so much. Now I have this established collection I can turn my attention to helping others who are upgrading with all I have learned along the way.
But this is not the end of my story; fear not I have a couple more pictures for you!
I leave you with my A600, modelling its latest upgrade. An ACA630 & Indivision ECS:
And final pictures of my complete collection, all on display and ready to use whenever I feel the need for miggy time:
So that's my full collection, I'll be honest there is no immediate plans to start any further projects, I'll be keeping an eye out for a few little upgrades to these I'm sure like USB when funds allow, but for now that's me done, cases closed and RF Shields in place, ok maybe I lied about the RF Shields! Oh ok and the cases…
Special thanks to all whom I have traded items with and especially for the gifts which have been gratefully received and will be forever cherished in my collection.
I'd also like to thank all who have helped me with repairs, help, advice, listening to me loose the plot and everyone who have made my return to the scene such a great experience!
Cheers!
Fitzsteve.